Blockchain Supports Revolution in Betting - Bethereum, Sports Betting Platform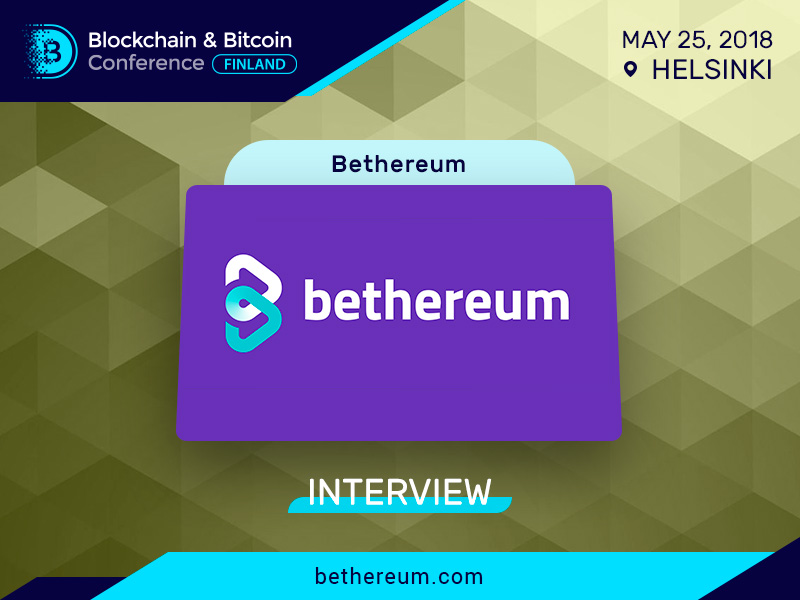 Concerning the centralized betting, players are vulnerable to external attacks: their funds and financial information are under risk, according to Peter Gal, representative of the innovative sports betting platform Bethereum.
Bethereum is blockchain-based network which makes betting fair and secure. The company will be a golden sponsor of the Blockchain & Bitcoin Conference Finland on May 25. In the interview, Bethereum representative talked about conventional betting problems and possible risks. He also discussed the platform's Bether token and explained what is necessary for betting security.
---
Interviewer: Blockchain & Bitcoin Conference Finland (BCF)
Sponsor: Peter Gal, Co-Founder at Bethereum
BCF: What is necessary to keep in mind to make the betting platform very secure?
B: Blockchain is the perfect technology to support revolution in betting. Within Bethereum, transactions are secured by cryptography and governed by Smart Contracts on the Ethereum blockchain. All financial movements are recorded on the blockchain and remain transparent and viewable for each participant.
---
BCF: What are some other problems you see in conventional betting apart from lack of trust and transparency, and minimal returns?
B: Bets have a strong social root, but online betting is truly impersonal. People bet against faceless bookmakers instead of playing with friends and colleagues. It just does not feel like a game anymore. Bethereum is a social, community-driven platform including powerful gamification elements. Also, successful bettors need to master a wealth of information: odds, spreads, handicaps, vigorish, moneyline…the list is nearly as vast as the betting choices. Complex registration and interfaces compound the problem. This can be overwhelming to casual players. Bethereum is designed for maximum simplicity and intuitiveness.
---
BCF: Decentralization and Smart Contracts guarantee full safety and transparency. However, are there still some risks or some issues which can evolve, or is it really as secure as it is supposed to be?
B: Casual bettors are more interested in security than regular gamblers. The centralised nature of betting providers makes all bettors vulnerable to external and internal attacks, putting players' funds and financial information at risk. Bethereum's decentralised setup and Smart Contracts offer unmatched player protection.
---
BCF: We know you were planning your Bether token to be traded on exchanges. How is the process progressing and how will it influence the work of the platform?
B: We are still running our token sale. After reaching our presale hard cap of 6000 ETH, we are now preparing for the main sale and talking to private contributors. The exchange listings might happen after the end of the token sale.
---
BCF: As you say you are going to make innovations in the future and develop a wider ecosystem, it is interesting to know what specific plans do you have for 2018?
B: We are one of the very few blockchain projects with a working product prototype, already during the token sale. Prototype of our app can be downloaded from the App Store. For 2018, our plan is to launch Oracle / API feed, Bethereum wallet and Public beta app.
---
Meet the golden sponsor and discover fair sports betting at the conference! Registration ►►►