Chairman of the Board at FA Solutions Will Discuss Blockchain Regulations at the Panel Discussion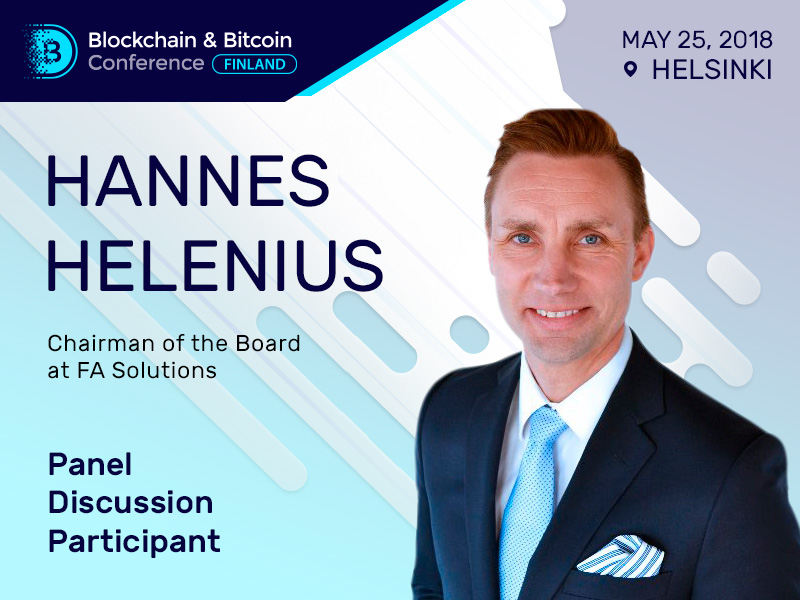 Bitcoin or any other cryptocurrencies do not fall under serious regulations in Finland. In fact, the country looks promising in becoming the cryptocurrency centre.
It is one of the countries where blockchain implementation in businesses is high, and the cryptocurrency transactions are developed in a lot of industries. But what challenges to cryptocurrencies do exist in Finland, and how are they regulated in the other countries?
In the framework of the panel discussion "Legal and Regulatory Challenges in Blockchain and its effect on Economy" at the Blockchain & Bitcoin Conference Finland, Hannes Helenius, chairman of the board at FA Solutions, will discuss the topic with other speakers.
The expert specialises in global business development, financial ecosystems, and mobile devices and applications. He has twenty years of international experience of working in financial industry as a business and product development executive. Hannes is a specialist in asset management, wealth business management and private banking. Currently, he is a chairman of the board, head of sales and partner at FA Solutions, managing its the growth strategy. The company is focused on make the business structuring and planning more effective and less complicated.
The speaker has several awards, for example, he has won the first place of Global High Tech Industry Alliance Awards in 2000 for the first mobile stockbroking application in production development. He also appears in the list of "The 10 Most Trusted Asset & Wealth Management Solution Providers 2017."
Get to know the speaker at the conference! Registration ►►►