CoinTraffic Will Be a Sponsor and Exhibition Participant at Blockchain & Bitcoin Conference Finland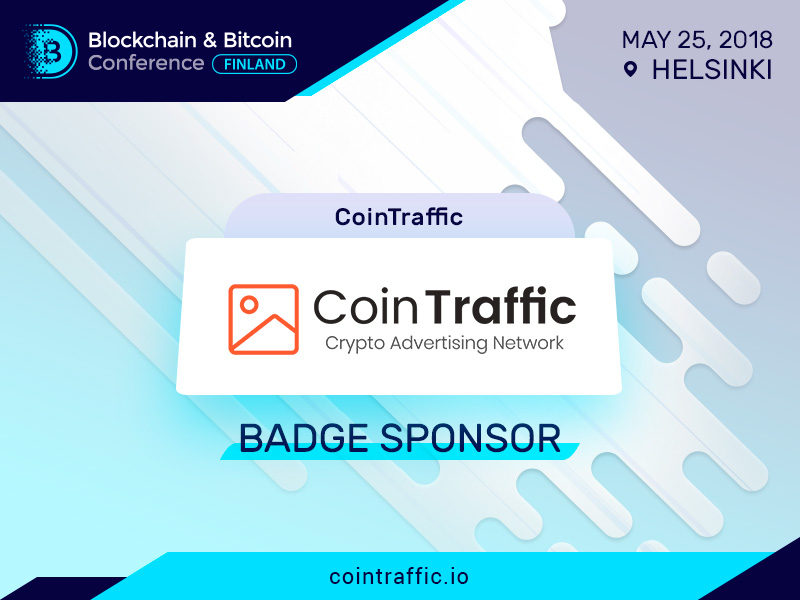 CoinTraffic, an advertising platform in crypto-field, will become a badge sponsor at Blockchain & Bitcoin Conference Finland on May 25.
CoinTraffic is the leading advertising agency for crypto-related information. It creates advertisements for clients on more than 500 websites and has more than 15 million daily banner shows. The company creates advertisements for the specific targeted audience, making sure ads are shown to those who are interested in crypto-sphere. With this aim, CoinTraffic chooses biggest crypto-related websites such as CoinMarketCap, CoinTelegraph, Worldcoinindex, CCN and others.
The platform supports different formats of advertising, providing a large choice for any wish of its clients. Any kind of banners, pop-unders and other formats are available for becoming a basis of your advertisement. The company also does full setup of GA and advertising campaigns in Google and Facebook.
Cointraffic has already helped a lot of big projects to attract investments and helped to raise more than $700 million for more than 70 ICO projects.