OriginalMy's developer reveals how to transform society using blockchain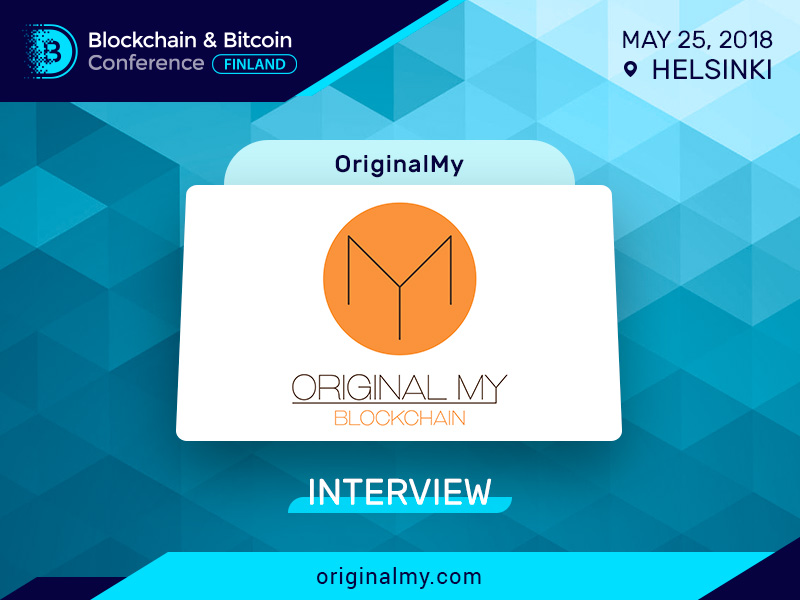 When citizens are able to receive government services in the online mode, it means the development of country's electronic democracy. One of the crucial aspects of obtaining any state information is data validity and verification.
Blockchain & Bitcoin Conference Finland will introduce OriginalMy, a blockchain company engaged in the validation of digital documents and the integration of distributed ledger technologies in the Brazilian government sector.
We talked to Edilson Osorio Junior, the company founder, and discovered how blockchain could significantly contribute to the social development and about related challenges.
---
In two years, OriginalMy turned from a startup engaged in digital document validation into a company educating government entities in blockchain. How did you manage to establish a contact with the authorities and explain them all the advantages of blockchain application?
EOJ: As a pioneer in blockchain in Brazil, it was natural being referenced as an authority about it. The government authorities and regulators always found us as a source of good information and education about. To not conflict with OriginalMy products, in 2016 I personally co-founded the Blockchain Center and the Blockchain Academy too, being the first to aggregate all the initiatives on blockchain together for developing and sharing information and doing hackathons. The Blockchain Academy is the company that is used for training developers and businesspeople to foment the blockchain market.
OriginalMy is the main case over there and the only one on the top 100 Brazilian startups to watch, using blockchain for delivering real products and services, and we are still invited to talk to the government, regulators, judiciary, financial and companies. They invite us all the time and we use the open channel to expand blockchain knowledge to them all.
---
Have you ever had to lobby bills on regulating blockchain products? What is the legal status of cryptocurrencies in Brazil?
As you can see in this http://www.camara.gov.br/proposicoesWeb/fichadetramitacao?idProposicao=2158482 doc., I was invited to speak at the public hearing of the House of Representatives Brazil, next to Microsoft representative (Eisele) and a representative of an investment fund from Singapore.
We have always a lot of work, because notaries are trying to change the law to prohibit notary electronic acts (after we started it), and we have a congressman trying to criminalize the use of cryptocurrencies. We know they will not win, but it takes a lot of our time preparing the market and presenting it will be the future and the ways the government and notaries can reduce the expenses and improve the efficiency.
For now, cryptocurrencies are not banned and not regulated. The Central Bank is just watching because they say it not poses as danger to the national sovereignty.
You said that transactions of your platform were used as evidence in court. You have also developed software for identifying fake news, which will be also used as evidence during legal cases, especially in terms of upcoming presidential election. What is the legal status of such evidence? How many similar deals were in practice in Brazil and worldwide?
In Brazil, we have a law that says that if the parties agree about the format of the digital certificate, it is valid. And it is easy to prove the immutability of the registry, as the transparency and auditability of its own. We are working close to the parties lawyer offices because the presidential election will be a source of aggressive fake news. Two weeks ago I was invited to present the tool at a conference where were present all the tribunals of all states. It was good because I had the opportunity to talk to them all at once.
That tool is still available just to Brazilians and the next step, as we are moving to Europe, is to internationalize all our platform tools and make it available globally.
---
Who assisted you in uniting notaries to provide the population with electronic government services? Are there any corporate competitors in Brazil that focus on similar solutions? Or are you the dominant company?
EOJ: The notaries in Brazil are not united. They have some kind of official association but they fight between themselves. But we have some notaries that have a future vision and entrepreneurship, and they know their services will be deeply impacted by blockchain. Because of that, I get close to them to start prototyping services that could change their market on a good way and bring efficiency to the population.
However, the mass of notaries already start a move for trying to neutralize those types of services. We believe it is a movement that is in the very beginning yet. We have some tribunals at our side and they have lobby with another tribunals on their sides too. Let's see what happens on the next chapters.
---
You will participate in Google Campus Sao Paulo. Why do you think your project has passed the selection for the second time?
EOJ: We filled the first application at the end of 2016 and were selected between more than 600 startups. We were 12 startups in the 2nd batch together. At the end of the 2nd batch, Google invited us to stay one more batch (the 3rd), and they did it to 2 more startups (3 startups stayed here, out of 12). And the process to the 3rd residency program had more than 1000 applications!
Google Campus believes we are a startup that can cause a deep impact on societies like Brazil, which has a lot of bureaucracy (red tape), very old and conservative institutions and many corruption p. ex. They support us because we are really giving back something valuable to the society.
---
What are you going to present at Blockchain & Bitcoin Conference Finland on May 25?
EOJ: We will present an overview of our company, the features we already have running and the future plans to Europe.