We Suggest Forgetting About Mobile Difficulties – Miracle Tele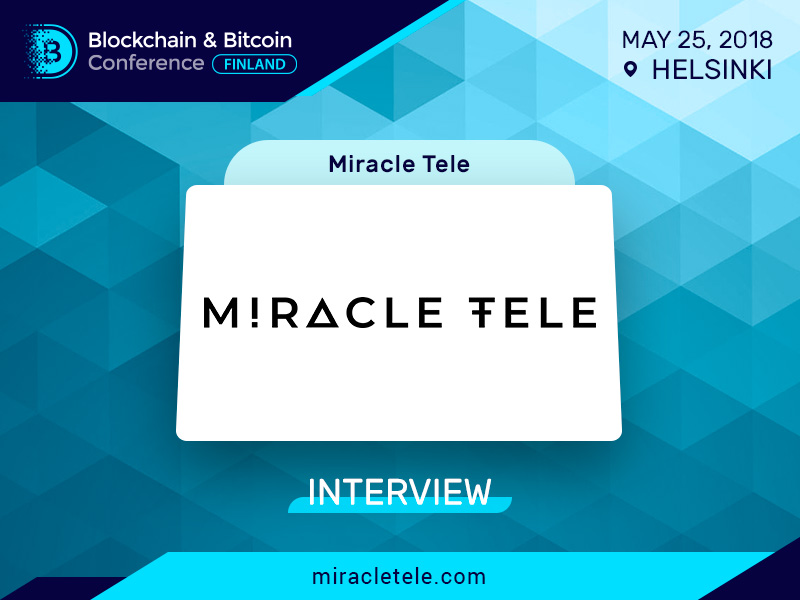 "Our product is for tourists and travellers, crypto-friends and for those who need maximum privacy," explains the representative of Miracle Tele, mobile virtual network operator.
Miracle Tele is a blockchain-based telecom company. It will become a participant of the demozone at the Blockchain & Bitcoin Conference Finland, presenting its unique solutions and innovative ideas which transform telecom industry. In the interview, the representative of the Miracle Tele discussed one SIM card use all over the world, existing problems of telecom industry and its future.
---
Interviewer: You allow your clients to use mobile and internet all over the world with only one SIM card. How did you manage to do it? Was it difficult to set it up?
Miracle Tele: We have signed agreements and contracts with dozens of local telecom operators all around the world on purchasing their call and traffic network overcapacities. Although it was not easy to achieve it in a quick manner, we successfully launched from scratch thanks to our team.
I'm so grateful to all our team members—professionals with a rich experience in both telecom and digital technology industries—who worked hard towards it and made it possible to get Miracle Tele live without a problem.
---
I: We know that Miracle Tele members receive rewards. Could you tell us more about this system, please?
MT: Incorporation of blockchain technology in our telecom services and business workflows allowed us to tokenize the assets, introducing TELE token, and provide users with biweekly rewards that equal to 40% of the company's net profit divided between all token holders.
It works really easy and is similar to a mobile cashback system fused together with a proof of stake algorithm. The user purchases a certain amount of TELE tokens, adds them to the stack on our website where the tokens are put on hold for two weeks, and receives token holder rewards upon completion of this two-week-long staking period.
After that the user can choose to either keep the tokens in the stack and continue receiving rewards or take them out and use them the way they want.
---
I: What services do you think are overpriced in the industry in general? How are you dealing with the problem?
MT: And though currently mobile operators in most countries offer relatively reasonable rates on domestic calls and browsing, it's still too expensive and inconvenient for travelers and entrepreneurs to contract a traditional roaming provider.
However, the telecom market situation in some parts of the world is not as optimistic as I described above. There are some countries that charge their subscribers a flat call set-up fee with a couple of free seconds of calltime included and then charge them per second even on domestic plans.
An as MVNO, Miracle Tele has no infrastructure development, branding, or equipment maintenance costs, making our operations cost-efficient, and making it possible for us to offer our customers a fixed €0.2 rate per minute of calltime on both domestic and international plans as well as traffic rates that start at €0.01 depending on your location.
The calltime rate remains the same for all 213 countries where our services are currently available.
---
I: What other problems existing in the telecom industry does your company help to solve? Apart SIM cards, what difficulties can your clients forget about?
MT: First and foremost, we make it possible for our customers to retain their privacy rights. In majority of countries around the world, a common mobile operator will require your ID information in order to sell you a plan.
We do not ask our customers to verify their identity in order to purchase, activate, and use a SIM card and anyone can sign up at our website using only their email address in just a couple of seconds.
Also, I think that one of the biggest problems in today's telecom industry is that large mobile operators think that people still view their phones only as a means of communication. In reality, it's not like this anymore and people would love to have a more ultimate solution—combining telecom services, financial tools, and use of the emerging technologies—in place of a good old prepaid plan that only lets you call and browse.
Our product is aimed at travelers, business people, cryptocurrency enthusiasts, and at everyone who wants their privacy rights to be respected. In the near time we are planning to add such features as a proprietary wallet with integrated prepaid debit cards, VPN services that will come together with all SIM card plans, and smaller features like free messengers, one free website/service a month, free virtual numbers from any country, voice change, and so on.
---
I: Do you think telecom industry will be completely based on blockchain one day?
MT: I'm not sure if we should talk about entire global telecom industry being completely based on blockchain one day, but in already less than a couple of years we're going to start seeing a lot of telecom operators that extensively use blockchain in their processes.
And it won't happen only with the telco industry. The things around us are changing very quickly now in so many industries and markets, especially if they have to do with digital technologies.
Things I mentioned in the previous answer will be only the few of those tools and features that most of telecom operators will offer their users in five years from now on. And we at Miracle Tele are excited to pioneer the use of blockchain technology in telco and happy to offer our customers quality services at lower rates, token rewards, and nice additional features. They deserve it.