What Do Cryptocurrency Tokens Enable in Real World? Walter Strametz, Chair of IBREA, Will Discuss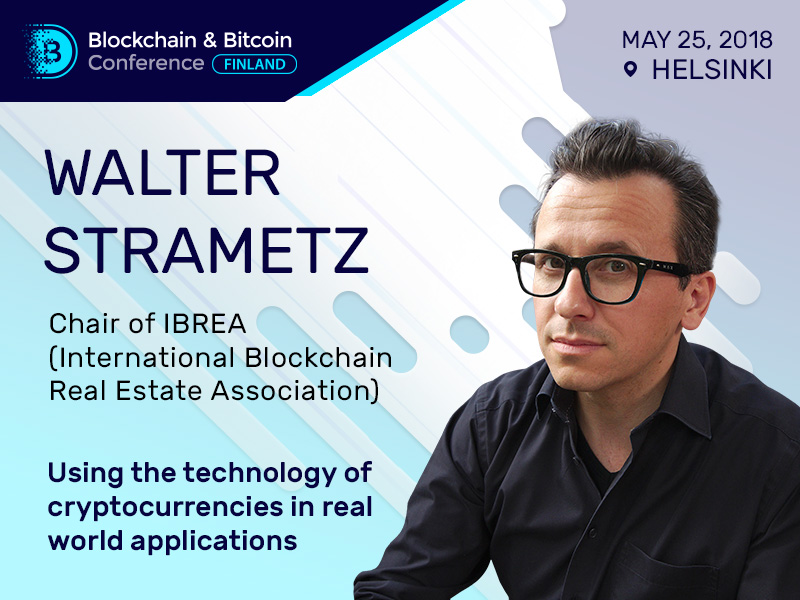 Cryptocurrency technologies change the world and many various industries which they are integrated into. But what exactly do they change in traditional operations and how do they influence the way different processes function? In the framework of the Blockchain & Bitcoin Conference Finland, Walter Strametz, Chair of IBREA, will deliver a presentation "Using the technology of cryptocurrencies in real world applications" where he will discuss examples.
Main points:
ease of "general investments" processes with ERC20 compatible fully pegged tokens (EUR, CHF, also Ether);
how tokens enable regulatory compliant investments;
how tokens provide cross-border identity-passporting following the ruling of accepting public funds;
legal compliance with e.g. Anti-Money-Laundering and Crowdfunding laws.
Walter Strametz is the real estate investor, and the expert in computer science, IT and crypto technologies. He has joined crypto environment since the time Ethereum Frontier had been released, and then the expert has participated in a big number of blockchain-based projects cooperating with international financial institutions.
The speaker holds the chair of IBREA (International Blockchain Real Estate Association). Apart from that, he works on the blocksquare.io start-up as well, where he has a position of advisor. He has also worked in the IT sphere for a long time, dealing with strategy developments and advising teams of IT architects and programmers.
Moreover, Walter has organized blockchain-real.at – the first blockchain and real estate conference in Europe.
---
Meet the speaker and learn how crypto technology is used in the real world at the conference! Registration ►►►