Top experts from the largest global companies at Blockchain & Bitcoin Conference Finland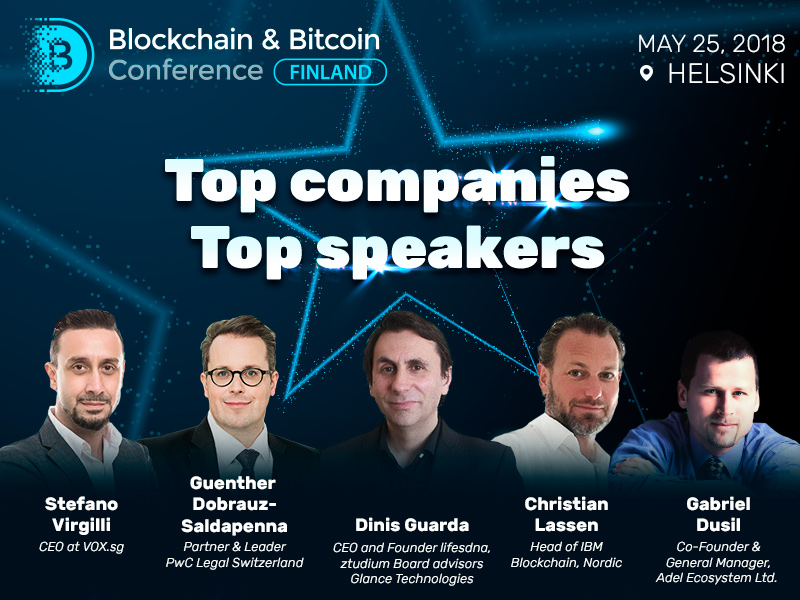 On May 25, for the first time ever Helsinki will host a large-scale event – Blockchain & Bitcoin Conference Finland dedicated to blockchain industry development.
The conference will offer presentations from the leading blockchain entrepreneurs and crypto experts from the UK, Singapore, Switzerland, Finland, Denmark, the Czech Republic ets.
Speakers, whose names are well-known to the whole blockchain industry, will share how to build a flourishing business and bring your company to success using the distributed ledger technology. They will also present successful case studies of integrating blockchain in the finance industry, trading, and logistics.
Among main speakers:
Stefano Virgilli, Singapore (CEO at VOX.sg). Being a successful serial entrepreneur, the expert will tell how to build an efficient marketing strategy for ICO projects, write the white paper correctly, and attract investors.
Guenther Dobrauz-Saldapenna, Switzerland (Partner & Leader, PwC Legal Switzerland). The expert will discuss global trends in the blockchain industry regulation. He will pay special attention to the cryptocurrency race and tell how to conduct a successful ICO.
Dinis Guarda, the UK (CEO and Founder at lifesdna, ztudium; Member of the Board of Advisors at Glance Technologies Inc). Dinis is a professional advisor on starting up companies focused on blockchain, fintech, AI, and ICO. The topic of his presentation is "Blockchain, AI and Crypto Economics – The Next Tsunami".
Christian Lassen, Denmark (Head of IBM Blockchain, Nordic). In his report, he will focus on the use of blockchain in the financial sector. The expert will review the main advantages of the distributed ledger technology and present IBM's blockchain solutions explaining how they can help businesses.
Gabriel Dusil, the Czech Republic (Co-Founder & General Manager, Adel Ecosystem Ltd). Gabriel will give a presentation titled "Will Pandemic Protocols Establish a Utopian Economy?" The speaker will focus attention on the cryptocurrency services management and tell how techno-liberals and crypto-anarchists view this problem.
---
You can read the conference program and register on the official website of Blockchain & Bitcoin Conference Finland.